Our tried and trusted garden design process
At Beaulieu Landscapes, we are passionate about modern garden design and helping our domestic and commercial customers to get the absolute best from their outdoor spaces.
When we work with you to redesign your garden, we follow a clear planning process to pinpoint exactly the right design that will reflect your personal tastes and meet all of your specific requirements.
In our experience, the devil is in the detail, so having the right plans in place is the vital first step in the creation of your dream garden.
How the process works
Initial client brief
We start with a client brief so you can let us know exactly what you want.
This part of the process needs to be as detailed as possible to capture all of your requirements and we can advise on what we think can be achieved in the space that you have available.
We are always ambitious with our designs to help you achieve a real WOW factor!
Survey
If necessary we can carry out a detailed survey of your topographical features and water and drainage requirements. This helps to inform our detailed planning process and ensure that everything has been covered before we get started on your design.
Detailed planning
Once we have a clear understanding of your requirements, we move to the detailed planning phase.
This involves creation of 2D and 3D computer generated plans and drawings.
We also create mood boards to establish the 'look' and the colour themes that you are aiming for.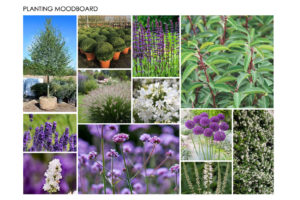 The plans will show you exactly what you can expect your finished garden to look like and will be our detailed guide to implementing all of your requirements.
What's covered?
Every aspect of your new garden is covered including some or all of the following:
Hard and soft landscaping
Planting
Drainage and irrigation
Garden layout
Lawn requirements
Garden buildings (if required)
Garden lighting
Garden sound systems
Awning and canopies
Special features such as ponds
Outdoor dining areas and kitchens
Accessories and furnishings
Project management and implementation
Once we have all of the plans in place, we move to the implementation stage.
All of our team are experienced gardeners and we understand that we need to work in way that disrupts your home or business as little as possible. We expertly project management every aspect of the implementation to streamline the process and keep you regularly updated on progress.
Finishing touches
When the construction work, planting and other heavy work is complete we can help with the finishing touches to bring your garden to life. This can include lighting, sound and accessories and furnishings. Everything you need to make spending your time out of doors a real pleasure.
Satisfaction guaranteed!
We have extremely high standards so we guarantee that you will be delighted with your bespoke garden design. If you are planning a garden makeover – we will be delighted to discuss your requirements.
If you need professional help with your bespoke garden design, find out more about our garden design service or – please get in touch with us today.